Malaysian Comedy Tour Recap
Malaysia will always be close to my heart because that is where I got married, which was the best decision I made in my life, unless we're strictly talking about finances then it was probably not the brightest idea to have the wedding there as the expenses quadrupled since it was a destination wedding. But I digress. This time around, I visited the Malaysian capital of Kuala Lumpur not as a tourist or travel show host, but as a stand-up comedian ready to prove the Philippines as a worthy supplier of funny guys. Yes, I'm being sexist. I hope we get a female comedienne to commit into the Comedy Cartel this year, though. We badly need female perspective on things.
The 4-show comedy mini tour I did in KL and PJ was amazing, to say the least. I was able to perform about 30 minutes per night in 4 different venues that progressed from 100% Malaysian locals to 100% expats. The audiences were eager for laughs probably because the paid 60ringgit to watch us. The first room was One Mic Stand, a weekly open mic that Kavin Jay and Rizal Van Geyzel built with their bare hands with cement and hollow blocks. This room is a small intimate theater type and there's no choice but to pay attention.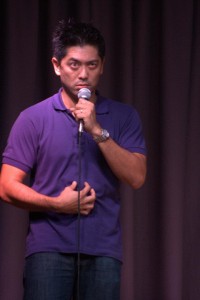 The second show was a 3-man show with me, Matt Price (UK) and Byran Aylward (CANADA). It was hosted by the local celebrity Papi Zak, my co-vj/host/inbetweener on Sony's BeTV. I was the malnourished comedian that night as the 3 other comics were 6'3″ and over 200 pounds each at least. It was in the main theater of PJ One. It was kinda like One Mic Stand but bigger.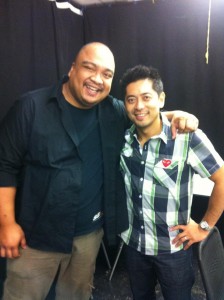 The third night was in the Velvet Lounge in Zouk club. This was near the Petronas Towers. Outside of the club, GB, another Comedy Cartel comedian, and I went for some exotic food from a truck parked across the street and we encountered the contestants of Miss World Malaysia. We approached them hoping for a photo with our clothes on, but the manager or PR guy said we couldn't. We walked away thinking, that's so stupid. If you're a PR guy, you should let anyone who wants to take a photo with the beauty queens do so. It's just good PR to be nice and let random perverts take photos of the girls to brag to their friends. It might mean higher ratings and higher toilet paper sales. Besides, didn't they know that my face was on the billboard at Zouk??? Probably not as the billboard I speak of is the size of a regular typewriting paper. The audience at Zouk was smaller than expected but we all had fun. Too much fun for a few of the audience.
The last night was in The Bee at Publika. This was a bar/restaurant setting so it was the most challenging. We all had to work the room but we all had great sets. It was mostly white people so it reminded me of the days back in SF. I had 2 Filipino friends based in KL that came to watch, which made the whole Filipino audience count for the trip go up to 5.5, yup there was a half Pinoy on the first night.
Here's what I learned: Malaysian audiences are ready to laugh more than the typical skeptic Pinoy audience (I am excluding the Philippine college crowd and the regulars at Chihuahua). Malaysians are very similar to Pinoys – both are relaxed and don't take themselves too seriously. And we all have the same challenges with the rising point of view style comedy in Asia.