Do you miss the Philippines? Do you want to get some good hearty laughs?
Then buy your Nutritious Stand Up Comedy CD now online for only $3.99!
Nutritious Standup Comedy, a Filipino point of view stand up comedy CD, was recorded by international Filipino stand up comedian Tim Tayag in the Philppines. Tim's vast experience in comedy has taken him to different parts of the world from San Francisco, where he got his start, to Hong Kong, the Middle East, and the Philippines. As the pioneer of point of view stand up comedy in the Philippines, Tim's fresh and funny take on Filipino culture not only makes you laugh but also makes you think. This CD is full of nutritious jokes that are healthy for you and your family. No empty puns and insults for shock value can be found in thie recording. Guaranteed to make you laugh whether you're Filipino or not.



Nutritious Standup CD featuring Tim Tayag is now available online. You can also buy it directly from Ecircle Entertainment by texting +63.917.886.0706 if you're in Manila. This CD is a collector's item. It's guaranteed to make you lose the excess fat you get from unintelligent hacky jokes that are full of empty puns and insult. Get your copy today and savor the nutritious healthy fibrous humor that your body needs.
Buy it now!


Listen to a sample from the Nutritious CD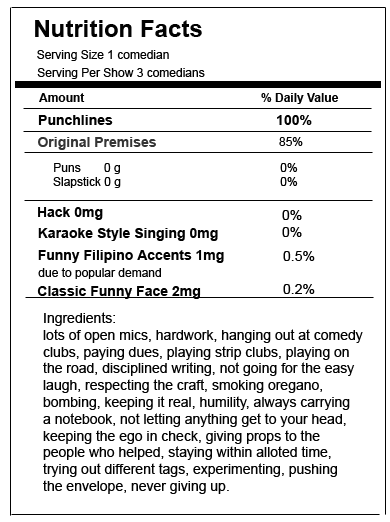 Comedy bits in this CD were recorded in front of a live audience in Magnet Cafe in Katipunan.