Taiwan in Two Minutes – My Taiwan Tour
If you've ever wondered to yourself, "Where is Taiwan?" well it's an island country near China, though depending on who you ask, they consider it as still part of China. Formosa Taiwan, yes it was called Formosa Sometimes and often misspelled as Tiawan or Tiwan or Thaiwan, is just north of Philippines, where I am from and that is why it's convenient to take a Taiwan holiday.
In my last Taiwan vacation in September 2015, I went with my wife, mom, brother and sister. Yes we are that small a family, not typically Filipino. These are just some of the Taiwan tourist attractions we visited this time:
Taipei 101 Skyscraper
Shing Kong Mitsukoshi
Shilin Night Market
Yehliu Geopark
Golden Waterfalls
Pingxi (Lanterns)
Lanyang Museum
Mr. Brown Castle
Ximending
Eslite Bookstore
Nangxia Night Market
Beitou Hot Spring
Shifen Old Street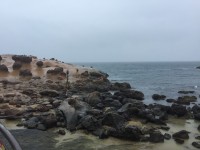 To get to Yehliu Geopark hired a van to drive us from the city to the other parts of Taiwan in Taiwan. When we got to the geopark, it was wet and rainy – like there's any other kind of rainy. We had to buy a plastic raincoat and plastic covers for our feet, which are highly fashionable when you are a stranger to a country. We got to see some amazing natural rock formations near the ocean. One was shaped like a queen, another like a leopard, and another like a mother-in-law hunting you down.
Afterwards, we got in the van again and we went to Golden waterfalls, the famous Shifen Old Street, and Pingxi where they hold the floating lantern festival along the railroads where we don't know if the trains are still active or not. Before they assembled the lantern, which is basically a small hot air balloon made out of paper, we wrote our wishes on a 4-sided paper using some old calligraphy styled paint brush. After that, they put a candle underneath to make it fly away. Along the side of the tracks, there are lots of food stalls luring you in with their food and goodies. Try the fried squid, I bet you can't eat just one. Ah, holidays in Taiwan are so much fun!
Another excellent set of Taiwan destinations are the night markets at… well at night. Our favorites were Shilin, Ningxia, and Ximending. I hope I didn't butcher the names. Ningxia was more of a food night market, where they sell all kinds of exotic food, insects, and other you-wouldn't-know it was edible things. Shilin was bigger and had both food and some shops. Ximending is really more of shopping and some restaurants. The brand name retail shops can be found here too.
Our hotel, the Ambassador, was quite conveniently located. It was walking distance to the underground train station, Ningxia market, and Mitsukoshi shopping area. If you're interested in going on a Taiwan holiday, I suggest you book your hotel through Booking.com. You can use my affiliate link to book:
Here is a higher quality version of the video:
Where is Taiwan from Tim Tayag on Vimeo.
There were other places to visit in Taiwan but I will cover those in a sequel to this Taiwan tour video.
You can visit the The Taiwan Tourism Bureau to learn more http://www.taiwan.gov.tw/