Nutritious Standup CD Now Available Online!
I know I've posted this before but that was I created the downloadable version of my Nutritious Standup CD. Yes, it's actually cheaper now. You can download it for only $3.99. So now you have no more excuses. Help feed a child by buying a copy now.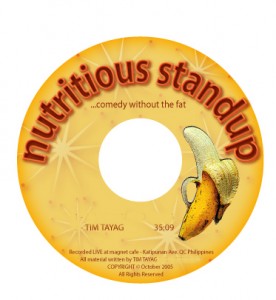 This CD is my first professionally recorded performance in the Philippines from a few years back. It's one of the few Filipino comedy recordings out there that showcases Pinoy point of view stand up comedy. I share my experiences and observations of the absurdities of being Filipino and traveling the world. Whether you're Filipino or not, this CD is guaranteed to make you laugh. I hope you enjoy it and spread the good nutritious comedy that's healthy for your body.